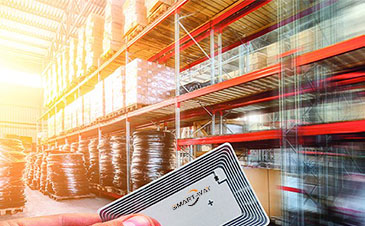 RFID technology has taken off big time in the retail space in the last few years. Some of the biggest brands in the world, such as Target, Macy's, and Kohl's rely on RFID tags in their inventory to improve their supply chain. Retailers want to make sure their selling floors are stocked with the right inventory, and ensure what is sold online, is available in-store and vice-versa.
The buzzword for this is omnichannel retail. In reality, it's simply keeping up with the times by meeting consumer demands. Customers expect to be able to shop and buy anywhere. To do so, retailers need a well-oiled, streamlined supply chain. A tall task that RFID technology is up for.
RFID tags are often compared to barcodes. When it comes to retail, RFID tags can be scanned all at once, whereas barcodes need to be scanned one at a time. That's why inventory counts can be done so much quicker with RFID. In fact, according to GS1, retailers see a 96% reduction in cycle count time, a 50% decrease in out-of-stock inventory, and an average rise in inventory accuracy to 95%. In short, RFID simplifies the process gathering inventory data.
In order to ensure the merchandise these retailers sell are properly using RFID, retailers mandate product manufacturers and distributors with certain standards of tag quality and usage. This is done to ensure the highest probably of inventory accuracy. Once the mandate comes down, it's on the manufacturer/distributor to get the right tags, equipment, and protocols in place. This can be a critical project for manufacturers to undertake. Failing to follow these mandates can result in harsh penalties and costly chargebacks from retail partners.
Some manufacturers simply put the RFID tags onto their merchandise without considering how they can use the RFID tags for their own supply chain initiatives. Just like their retail partners, manufacturers and distributors can use RFID to improve inventory accuracy within their own warehouse. They can even use their RFID tags to ensure chargebacks are kept to a minimum.
RFID can drastically improve the operations of warehouses and manufacturers. And, if you've already been mandated by your retail vendors, you've already made the investment. You can easily get a return on your investment by simply utilizing the RFID tags internally.
But, what do we specifically mean by "use RFID"? Here are 3 ways your RFID tags can be used in warehouses and distribution centers.
Seek and Find Inventory – warehouses are big, and time is money. How long would it take to find a specific item or product? I have a better question. How long should it take to find a specific item or product? Fulfillment time is critical for many retail operations. Omnichannel initiatives rely heavily on a fast supply chain. The ability to fulfill orders faster can give distributors a huge leg up. Geiger counters, for example, can be used within warehouses or fulfillment centers in order to find items faster.
Automatic Shipment Validation – once items are picked, RFID tags can be validated on their way out of the warehouse. A simple RFID tag validator, like the CYBRA RFID Cage, can automatically validate every single outbound shipment. This is done by simply scanning items coming down a conveyor belt. If an incorrect item has been picked/packed, the packaged is flagged. RFID's ability to automatically validate shipments is how the technology can drastically decrease chargebacks. A solution like the RFID Cage can even record every outbound shipment. So, an inaccurate chargeback bill can be contested.
Inventory Cycle Counting – Obviously many warehouses supply chains rely on warehouse WMS and ERP systems. But, if a company or warehouse does not have the discipline to actively manage and update inventory information, the data on the WMS/ERP system is useless. Most warehouses have an inventory accuracy rate of about 50% – 60%. As previously mentioned, RFID tagged inventory can be counted and checked quickly and efficiently. Items can be bulk scanned all at once, which takes out the human error of miscounting, or not seeing items.
These three areas alone are just the beginning when it comes to internal benefits with RFID. Once your warehouse is filled with tagged items you can cycle count in a fraction of the time compared to traditional methods.
Once the infrastructure is in place, RFID helps brand owners track preproduction samples, job tickets, and raw material bundles. Even showroom sales processes can be quickly and easily enhanced using RFID.
By putting RFID to work for your brand, you will reduce the costs of receiving, packing, and shipping goods, and you'll minimize chargebacks with improved order and shipment validation.
https://www.ylmtech.com/wp-content/uploads/2019/05/rfid-and-warehouse.jpg
226
365
https://ylmtech.com/wp-content/uploads/2019/01/logo-01-2.png
2019-05-30 02:09:10
2019-12-10 17:46:40
RFID And Warehouse